If you have a boat or caravan and are thinking about hitting the road or sailing off on an adventure, you might be a little limited on where you can head off to these days, unfortunately. The good news is, there's certainly no limits on style or design when it comes to impressive caravan and boat showers – the below 4 examples are proof of that and should provide you plenty of ideas and inspiration while you wait to be able to freely explore!
If your boat or caravan shower could do with an upgrade but you don't want to spend thousands on a renovation, there is also no limit to what The Grout Guy can do to make it feel brand new again with a simple and cost-effective regrouting service!.
It's easy to feel envious when this shower is even more luxurious than some have within their home. The full-sized, modern shower is what dreams are made of and we certainly didn't expect this beautiful shower to be possible within this caravan. We're in love with the grey subway tiles and the overall colour palette is simply stunning.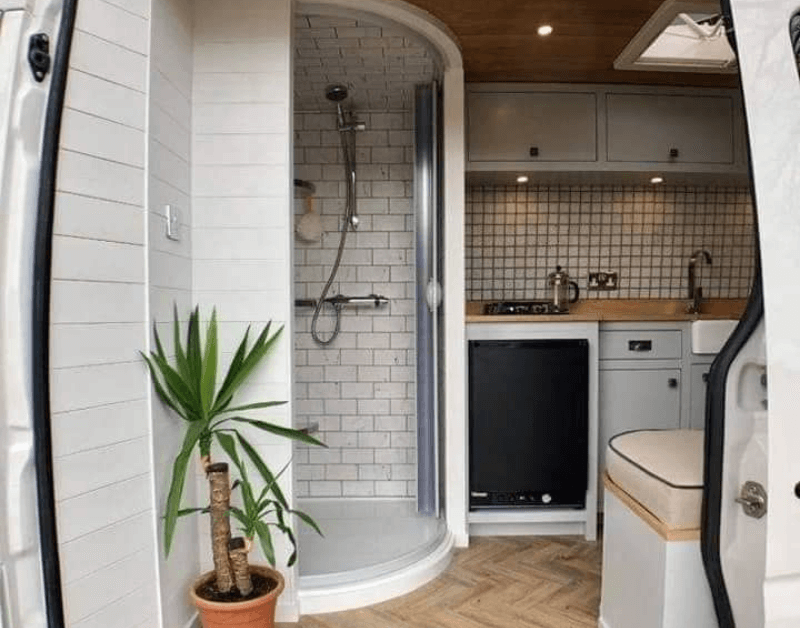 Sliding back this caravan door reveals the ultimate surprise, it's hard to believe you're not stepping in to a trendy little apartment. It's certainly one of the most beautiful designs we've seen, this mighty corner shower, fitted with beautiful white subway tiles, offers all you would need on the road.
Here is some #yachtgoals for you! This Rolls-Royce powered Aero boat S6 is in a class of its own with this unique and captivating design. This bathroom maximises comfort and relaxation for its guests with its superior finishes and generous space. Providing elegant, outdoor living, it has truly exceeded our expectations. That view is also one to mention.
This sleek and innovative design creates a warm and harmonious ambience, and we just love the teak wood finishings. This little space will be sure to leave a mighty impression.
The team of grout experts at The Grout Guy can regrout any size shower and have it looking sparkling clean and like brand new again in just a few short hours! Contact our team to arrange your free shower assessment and let our grout experts take your shower (wherever it might be located) on a mighty journey!
The Grout Guy can provide a FREE quote and in-home inspection from one of our experienced and LOCAL consultants.
I just wanted to thank your team for an amazing tile renovation that was recently carried out in our home. People are blown away by the transformation and the high standard of the work. I am one very satisfied customer. I would be more than happy for you to use me for a reference. Many thanks
KAREN WILSON
He worked till 8pm on the second night to finish up and he applied multiple trade skills to make it come together for me. If he's up for promotion/pay rise anytime soon I couldn't think of anyone more deserving because of his work ethic and skill set. Just thought I'd let the company know how happy I am.
SHANE DENTON